I woke up this morning (well actually, it was this afternoon... shh, Sarah needs quiet time), to a very nice surprise in my Google Reader - the lovely Lisa at
The Chambermaid
has awarded this blog, and
Sarah Discovers How to Eat
with an "E for Excellent" award! Lisa is a super-duper Mom, and an excellent writer with a great sense of humour. Thank-you Lisa, I am honoured!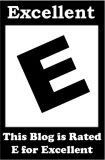 I'm going to pass this one onto Cindy and Michael at
Where's The Beef?
, and Mellie and EG at
Tummy Rumbles
, two of my favourite Melbourne food blogs. Keep it up, guys!